Bicycle commuting – how to get started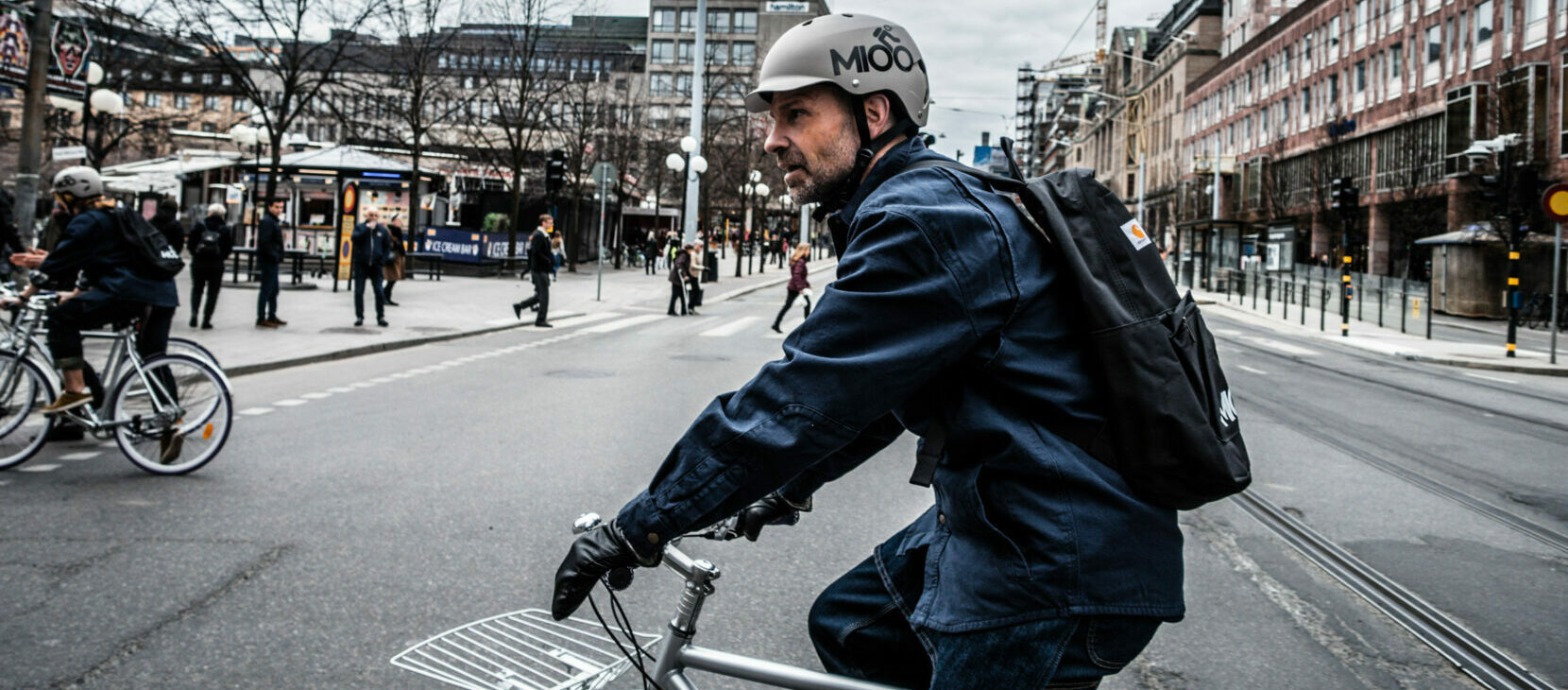 There are many reasons to start bike commuting. You get daily exercise, reduce your carbon footprint and save money. Another important reason for many cycle commuters is that they get control over their time. Unlike public transport and car traffic where you have no control over delays and traffic jams, you as a cyclist know more or less on the minute how long it will take to cycle a certain distance. Have you noticed that those who whims past the traffic jams on their bikes look a little happier than other people?  You are right. There are studies that show that people cycling or walking to work reach a higher level of well-being.
Even though you know all this, it can still be difficult to get started. Here are some tips to help you on the way.
Start with achievable goals
Do not start off by setting too ambitious goals for your bicycle commuting. See it as something new to explore. Maybe start with commuting once or twice a week. Eventually you get into the routine and the bike becomes the natural means of transport.
Choice of bike
The important thing when choosing a commuter bike is that it is functional for you depending on the distance you are going to cycle. The bike should do the job of transporting you and your things from point a to point b in as smooth a way as possible. The choice of bike is individual and a good idea may be to talk to a bike dealer or an experienced bike commuter to get an idea of the type of bike that may be right for you. If you already have a bike, it is of course good to start with. Some basic requirements that the bike should meet to work well for commuting are that it rolls without rattling and squeaking, brakes are working well. Make sure the bike is serviced, tyre pressure checked and moving parts are lubricated.
Bicycle equipment
A rack trunk or pannier is practical to be able to carry your necessities if you don't want to carry a backpack. There are a number of different types of bike bags to choose from.
Front and rear lights and preferably extra reflectors are a must to be seen in traffic.
Fenders and mud-guards are practical on the commuter bike, effectively preventing dirt and water splashes.
A bell is useful for alerting fellow road users that you are approaching. A ring in good time before you pass makes it easier and safer for everyone.
A proper lock is a good investment to keep your bike from being stolen.
Electric bicycles have increased enormously in popularity and are a good option for many. Perfect if you cycle a longer distance or if you don't want to arrive to work sweaty and in need of changing clothes.
Clothing
The basic rule here is not to complicate it too much in the beginning. Adjust the clothing according to your distance and physical effort. Wear training clothes and bring a change if you want to take the opportunity to get a training session on your way to work. The great thing about bicycle commuting is that you decide for yourself what speed and effort level you want to keep.
Helmet is recommended and there are many different variants to choose from. For those who don't want to wear a helmet, there's the Swedish innovation Hövding https://hovding.com/se/ as an alternative.
Keep a pair of shoes at the office that you can change into when you arrive. It's a relief not having to carry shoes back and forth on your bike. An extra jacket can also be a good idea to leave in the office.
Choice of route
A good tip is to test ride your way to work on a day off. There are often different alternative roads to choose and it might not be the shortest distance which is the most convenient. Try alternative routes and if you know any other bicycle commuters who cycle the same way as you, ask which route they prefer.